Van Rental New York
Rent a van or a minivan and enjoy the city of New York
New York can be an overwhelming experience, you are one click away from turning your trip into an unforgettable experience, how? By hiring a mini van! All you have to do is visit our web site www.vanrental24.com and book a mini van on-line it is s fast and easy. Get you mini van and let your journey begin.
Welcome to New York also known as the "Big Apple". New York is the 7th most populated state of the fifty in United States. It is the heart of finance commerce and modern culture. Here is where everything happens. Many say that no matter how much you have traveled you haven't seen anything if you haven't visited New York. The glow of the city often dazzles the visitor, offering at the same time a variety of choices for every taste. New York is one of the few cities that can satisfy even the most demanding visitor.
Whether you are here for business or pleasure New York is the place for you!. There are thousands things you can do in this city that never sleeps, but you can't certainly leave New York without seeing some sights that are tightly connected to the whole concept of New York.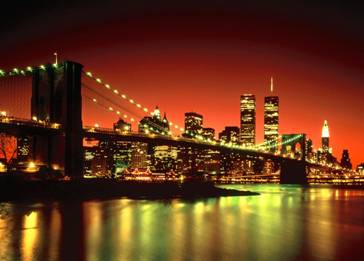 The most famous sight is of course the statue of liberty. It is not considered just another monument, but a symbol of freedom and opportunity that brings everyone closer to what we call the American dream. Just one glance at the statue of liberty made everybody believe that they had a chance for a better life.
One other must of New York is of course the Metropolitan Museum the culture icon of the city, with over two million object of Art in its collection attracts more than a million visitor per year.
It wouldn't t be an exaggeration to say that many come to New York just to see the Empire State Building. One of the tallest buildings in the world with breathtaking panoramic view that will certainly compensate the visitor.
Don't neglect to take a walk to the majestic central park, the Brooklyn Bridge.,the Radio Music Hall. Also dedicate some time to visit the Ellis Island with its great historical past. It was one of the greatest immigration stations.
Save the best for last and visit the Times Square in Midtown Manhattan. Those who know claim that everyone should pass at least once in his life from the "Crossroads of the world".
Van hire is the new advanced way of traveling it is not another medium of transportation it is your personalized tourist guide! It gives you the ultimate flexibility and the chance to plan your trip as you wish. You can see every sight of the city in practically no time and enjoy the privilege of real comfort.It is common knowledge that a large part of our travel budget is being spend for our transportation needs 12 seat minivan rentals reduce significantly both cost and fatigue since it can take you anywhere you like any time you like without long waiting hours.
With Van rental we are not obligated to stay glued at the center of the city, you have the opportunity to visit places outside the city or even plan an excursion to another nearby city.
Such trips have many specifications, here every minute is valuable and there is no time to lose. Hiring a mini van ensures both you and your partners punctuality and the ability to be always on time for your appointments. On business trips you are constantly on the go van rental can truly be a life-savour for traveling in and outside the city. Inside the mini van you have the opportunity while you are traveling to discuss with your partners issues that need to be resolved, or you can even plan with them an upcoming meeting. Van rental opens a new horizon and introduce you to a new way of traveling, enjoy your travel!!!
12 Seat Minivan rentals is also the ideal solution for business trips.
Pick Up & Drop Off Locations in New York:
JFK International Airport
La Guardia Airport, New York
New York City Center, NY
Manhattan, NY (All Areas)