Van Rental Darwin
Rent a van or a minivan and enjoy the city of Darwin
Many people see their dream holiday to Australia as a relaxing vacation involving beautiful, white sandy beaches, long days filled with glorious sunshine, friendly locals, and maybe a cute little koala or two. Others, however, picture endless expanses of red, sandy desert, with beautifully desolate scenery and not another being in sight, except for maybe a deadly snake or a crocodile swimming in a watering hole! If the latter sounds like a great adventure to you, it might be time to start planning your trip to Darwin, Australia.
Darwin is the capital of the Northern Territory of Australia, which forms the majority of the central northern area of the country. This is an incredibly scenic region, with beautiful waterfalls, billabongs, waterholes and so much more to captivate your mind and occupy your time. The Northern Territory really is the perfect place for a genuine Aussie outback adventure. Darwin is the largest city in Australia's far north, and is a great place to spend some time relaxing and soaking up the local atmosphere. Although Darwin has a lot to offer in its own right, it can also be used simply as a place to base yourself while you explore Northern Australia. The best way to do this is by a van rental from Darwin, which leaves the rest of your adventure completely in your hands!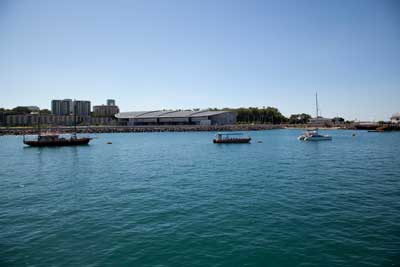 A Darwin van rental will let you explore the entire, vast expanse of the Northern Territory at your leisure and convenience. And boy, is there a lot to see. If you make it 100 miles south of Darwin, you will find yourself in Kakadu National Park, a vast area of extreme natural beauty. The first thing to realize is that this park is enormous. For reference, it is around half the size of the entire land mass of Switzerland, and has so much to offer in the way of stunning landscapes and native flora and fauna. What's more, Kakadu National Park is a rich source of indigenous Australian history. This is an area where you can learn about the lives of Australia's Aboriginal population, explore their history and culture, view their incredible rock art and see many amazing artefacts along the way.
If you're looking for even more adventure, don't let your van rental from Darwin hold you back, why not keep driving all the way through Kakadu?! If time allows, heading further south will be well worth the journey – you will eventually come across the stunning, iconic Uluru. This enormous sandstone rock formation will simply blow your mind with its size and majestic nature. Uluru is sacred to the Anangu, the Aboriginal people who have lived in these parts of Australia for many, many generations. The cultural and spiritual significance of the rock is easy to feel as soon as you step outside and feast your eyes upon it; there is no doubt that you have stepped into a truly magical, ancient place.
As well as the rock itself, the area around Uluru is all part of the Uluru-Kata Tjuta National Park, and is a great place to explore beautiful springs, waterholes, rock caves, ancient indigenous art, and so much more. This is an area that will resonate with anyone – the spiritual significance can be felt far and wide, and kids will have a great time learning about the history and culture of indigenous Australians, and of the area in general. Make the absolute most of your Darwin van rental by traveling far and wide, and exploring all that the magical land of northern Australia has to offer.
Pick Up & Drop Off Locations in Darwin:
Darwin Airport (DRW)
Downtown (Center)