Van Rental Boston
Rent a van or a minivan and enjoy the city of Boston
Boston is a city with a character of its own that offers to the visitors opportunities to experience a journey in history, get to know arts in depth arts, explore museums, discover harbor islands that seem as part of a movie scene, relax at a famous brewery or an even more famous bar with European style If you're visiting Boston for the first time we definitely share your enthusiasm. You want everything to be perfect and so do we. For a flawless trip with no contingencies visit our website at www.vanrental24.com and discover what Minivan Rentals can do for you.
Fasten your seatbelt in you 12 seat minivan and enjoy yourself with friends, family or your business partner because even a business trip can become a pleasure.
All of Boston Beauty is hidden inside the Freedom Trail here are gathered all together some of the most important landmarks of the city and is the best way for the visitor to get acquainted with the city. Five of the most important sights await for you the Boston Common which is the oldest public park of the city and a celebration of nature. The Bunker Hill Monument: A granite obelisk that marks the start of the American Evolution. The Paul Revere house which is the oldest building in downtown Boston residence of the Patriot and silversmith named Paul Revere. The old South meeting house the largest and more representative building of the Colonial era. This building was the first headquarters for British government in Boston and was later a landmark in the early days of the founding of the United States. Today, it houses a museum of Boston history.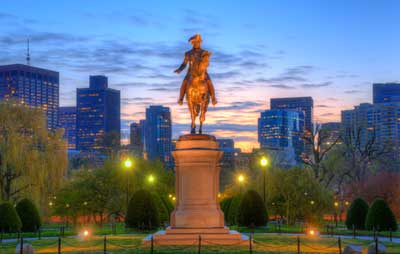 You certainly need a rest and the Best recreation area of Boston is calling you. Drive with your van hire up to Boston Public Garden were famous Swan Boats have returned to Boston Public Garden each spring since they were first invented in 1877 by Robert Paget. The' inventor, of these boats was inspired by the German opera, "Lohengrin," in which a knight of the Grail crosses a river in a boat pulled by a swan, it is guaranteed that you are going to see sparks of magic everywhere.
For true food lovers the Quinzy Market is there place to be this indoor- outdoor market hosts dozen of restaurants with a variety of choices and numerous food vendors.
Boston is known for its amazing museum among the top ones ranks the museum of science with your van rental driving it's no trouble at all, on the contrary it is converted into a luxurious experience exactly as the one that you deserve. It has more than 400 interactive exhibits an IMAX theater and a planetarium, so get ready to dedicate here a large part of the day an loose truck of time. It is the best place for both Children and adults.
If you are here for business doesn't get so easily disappointed an old saying says that where there is will there is a way. If you don't have times for walks in the park, visiting museums and you only have to dedicate one day take you 12 seat minivan leave the routine of the day and go straight to the Boston Harbor Islands a unique National and State park. Differently structured islands and offer you a unique experience and a relaxing gateway In a vast area of more than 35 miles a pure treasure is waiting for you to cherish it. With so many places to choose from, you will find the one that fits more to your mood. After this experience both you and your partners will agree that your trip to Boston was more than worthy.
Choose Van rental and life won't get easier than this!
Pick Up & Drop Off Locations in Boston:
Boston Airport (BOS)
Boston Central
Downtown
PRUDENTIAL CENTER (Massachusetts)