Van Rental Amsterdam
Rent a van or a minivan and enjoy the city of Amsterdam
Amsterdam is the capital of Netherlands and an A class city to live, but everyone knows this city also with her second name "Venice of the north. This name derives from its many canals which create an intelligibility ring.
It is one of the most beautiful cities in the world. You can really relax here simply by driving or walking though the canal streets. Friendly people and a colorful atmosphere makes Amsterdam distinguish from all the other cities of the north. It is certain that here you are going to feel very comfortable and not at all like a stranger. What you really need is an equally comfortable vehicle in order to explore this majestic city. If you still haven't thought of anything the choice is right in front of you and its name is Van Hire. Visit our web-page at www.vanrental24.com book your minivan on-line and get the party started. Yes you heard right because being in Amsterdam is like being in an all-day party.
The first thing you have to do as soon as you arrive here is start wandering through the canal streets. The landscape gives you a sense of freedom and peace even though you are at a metropolis. You can take a ride with a bicycle or take a tourist cruise. Amsterdam also has a variety of cultural sights and many world famous museums. Visit the Rijkmuseum. It is a real treasury that hosts more than a million visitors annually. It is the largest in the Netherlands and shows pieces from the Golden Age. The masterpieces of Rembrandt, Vermeer and Hals are all gathered here.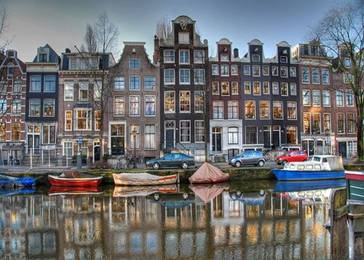 The Van Gogh museum is definitely a must see. Here you will have the chance to see more than 500 paintings, sketches and letters of the art genius named Van Gogh. He was a personality which remained unmatched and wrote history. The Het Scheepvaart Museum is a wonderful choice especially if you are here with children you will enjoy it. Maps, ship models, fine paintings, will make time fly inside here.
This city actually proves that the best things in life don't require money. A fine example is The Civic Guards Gallery -Schuttersgalerij Amsterdam. This gallery has a free entrance for the public. It has portraits of Amsterdam aristocrats citizens. You can learn a lot about the culture and habits of the people after a tour here. You have probably heard a lot about it, but now you have the chance to see the Famous Anne Frank house. It is the hiding place where Anne Frank wrote her famous diary during the World War II. You will leave with the best impressions after having seen this original diary.
Now that your eyes are filled with images it is time for a nice break the best idea is to drive with minivan rentals to a Brown cafe The atmosphre is so unique and friendly with touches from the past that makes it the perfect place for a cofee a beer or even for lunch.
Those who choose 12 seatminivan rentals never feel tired they always want something new to see and while the day is ending it is time for some fun.Go for a walk to the area around The Oude Kerk protestant church located at the red district and enjoy yourself until dawn
Amsterdam might be famous for its canals, museums and nightlife, but is also the city where the seven largest companies in the world have their headquarters. That is mainly the reason many businessmen visit the city daily. They don't have the time to enjoy or relax, they want everything to run smoothly and to be in order. What would you recommend to these people? Only one thing Van hire because they can move around the city with the maximum ease, their partners can escort them, meetings and discussions can be made on road and above all this, they can even organize a small van tour. With Van rental you can save a lot of time because one medium of transportation is able to cover all your needs with the some quality as five different would do, but with far less money.
Minivan rentals will make you still believe in miracles.
Pick Up & Drop Off Locations in Amsterdam:
Schiphol Airport
Train Station
City Center