Van Rental Adelaide
Rent a van or a minivan and enjoy the city of Adelaide
When people think about visiting the south of Australia, the primary focus is on Melbourne. However, Adelaide is another city that is well worth taking the time to explore. The capital of the state of South Australia, Adelaide is located on the coast of central southern Australia. The city of Adelaide is much like other Australian cities – it has a coastal feel and a relaxed atmosphere, with great local food and wine on offer. Adelaide is the perfect place to chill out and spend a few days, exploring all that is on offer.
Once you're done with the city, the surrounds of Adelaide is really what draws tourists to this area. A van rental from Adelaide allows you to venture further afield and explore everything that the state of South Australia has to offer. To start with, make sure you explore the beaches and coastline along southern Australia. The beaches here are just as beautiful, but less crowded, than those along the coast of Victoria, and are exactly what people think of when they imagine typical white sand, clear water Australian beaches. A van rental in Adelaide will allow you to explore all of this within an hour or so of leaving the city!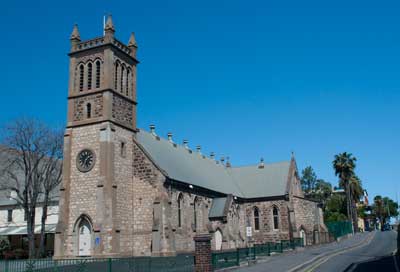 Let's face it, although the beaches are magnificent, the wine country is even better. Drive just over an hour from your van rental in Adelaide and you will find yourself in the heart of some of Australia's best vineyards. The Barossa Valley, located north of Adelaide, is considered to be Australia's premiere wine producing region. This area is simply picturesque, made up of beautiful hills, valleys, rivers, and of course – vineyards! The Barossa Valley is primarily known for its red wine, in particular Shiraz, but many other varieties of grape are grown in the area, including Riesling, Semillon, Cabernet Sauvignon and more. If wine isn't your thing, the Barossa Valley is still absolutely worth a visit – for the beauty alone as well as the numerous fruit orchards in the region. A drive in the spring time will provide exceptional views of blossom and plenty of places to stop and sample jams and jellies, dried fruits, ice cream and so much more!
As the Barossa Valley is a large region, exploring it by van rental is one of the best options. This way, you can take your time and drive between vineyards at your leisure, seeing all the sights along the way. There is an abundance of quaint bed and breakfast style accommodation options in the area, and each vineyard is often accompanied by locally grown fruit and chesses from the Barossa Valley area. As mentioned, even if wine isn't your thing, the drive through the area is worth it for the scenery alone.
If you happen to have more time, a van rental from Adelaide can also take you further afield. South Australia spans from the coast up to the dry, arid desert in central Australia. Visiting the more remote, desert areas of South Australia will give you a totally different view of the state, and will give you a great insight into outback Australia. Drive just a few hours north of Adelaide and you will find yourself in the deep outback. Here you will experience a very different but equally incredible side of Australia – the desert.
Central Australia is a country of its own, and a van rental from Adelaide will let you experience that in the flesh. A van rental in Adelaide will not only open up the city to you, but in fact, the whole of this incredible country.
Pick Up & Drop Off Locations in Adelaide:
Adelaide Airport (ADL)
Downtown (Center)